Brian Anderson
Executive Director & Health and Wellness Director
Brian Anderson came to Quail Park after working locally for the past few years in two locations with the largest Assisted Living provider in the U.S. He was drawn to the contrast of working for a smaller, locally owned and operated a company, and he loved the philosophy of care at Quail Park. There is nothing in nothing in the realm of Memory Support that Brian cannot do!
He became a nurse during his stint with the U.S. Army, where he served as a nurse in combat zones of Iraq. Though nothing he gets to work within Assisted Living compares to what he dealt with on his tour of duty, he says that what he truly values in this work is the relationship he can develop with each resident, and the support he can offer to families and his team. And perhaps his military experience contributes to his demeanor: He brings a level of composure, calm, and compassion unrivaled among his peers.
He was born and raised in the Central California Valley…where he met his bride, Jamie. She works locally as a Veterinary Tech in an Emergency Clinic. They share a love of caregiving, and of critters: There are currently four dogs, one large orange cat, and one anxious chinchilla living in their West Seattle home. Brian has a quirky sense of humor, an amazing bedside manner, and a passion for managing the health concerns specific to people with a dementia diagnosis…and ensuring the highest quality of life possible from a medical perspective. He also believes in communication with families as the foundation of great care, so if you have ever had a negative experience with an out-of-touch medical team, just know that you'll be hearing from Brian frequently. You will definitely meet him in the course of joining our community, and we are confident that working with him will be a highlight of your experience with us!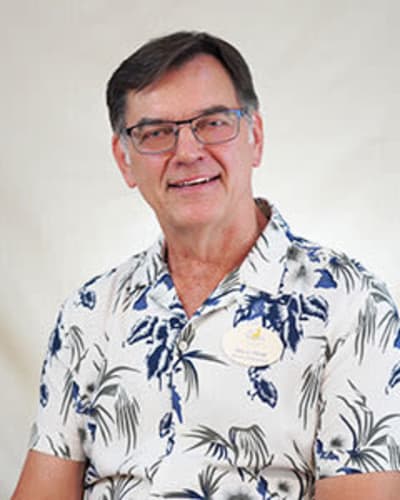 Doug Peak
Director of Engineering
As a native son of North Dakota, Doug basically grew up in an episode of little house on the prairie. Mom, Dad and the four little kids spent the first 10 years of Doug's life on the prairie in a 20 ft. by 20 ft. house with no running water and no indoor plumbing. When Doug was 10, the family moved into town (huge at a pop. of 150). Doug was always a dreamer and once he graduated high school he joined the US Navy–mainly because he wanted to see the ocean and he wanted to see the world. Doug has always been restless and that took him through many diverse occupations, places he would call home and friends and acquaintances with varied backgrounds who would influence his life in many ways.
Out of all the things Doug has done in his life (managing a restaurant, a clothing store, selling insurance, and working in the oil business for many years, etc.) the most gratifying and rewarding was that of being a foster parent for 11 years in North Dakota. As the very first single male foster father in the state, he had the privilege and honor to share in the lives of nine kids who are now wonderful, contributing human beings.
And yes—He did get to see the ocean! He loves to sail and has done so with friends in many locations throughout the world. He loves art, music, animals and people. He would say there is always something to learn about yourself in interacting with others.
One of Doug's favorite sayings (reportedly an old Native American one) is: "if you stop moving you turn to stone". He keeps moving in this life, and says he never wants to stop learning, seeing and doing, which is one of the reasons he came to Quail Park Memory Care of West Seattle. Always so much to learn, see and do here!
Sean Hudson
Director of Signature Dining
Sean's parents moved to Seattle when he was eight years old, and Sean has considered it home ever since. In between college and playing guitar he began his culinary career washing dishes, cooking, and bartending in the Madison Park area. After college Sean worked in computer networking and IT services. This work required extensive travel and allowed him to work and experience the west coast from Mexico to Canada, and even Europe.
After several years Sean decided he wanted to travel less to be with his family and explore other career options. He would find himself spending a rewarding year volunteering as a cook at local foodbanks. During this time Sean re-discovered his love of food and passion for cooking and decided to enroll in culinary school. After graduating he began his professional journey in the culinary world and has held just about every position imaginable from line-cook to head chef at various restaurants, and catering companies throughout the area.
After living in West Seattle for a few years Sean began to search for an opportunity that would allow him to stay close to home and still pursue his passion for cooking. He found the ideal role at Quail Park. "It's amazing how things come together in life. I moved to West Seattle to be closer to my mother Louise after she had been diagnosed with dementia. Quail Park found my resume at the same time we were moving Louise into a Senior Living facility. Quail Park has helped me better understand what my mother and the members of my family are going through. It has personalized the pleasure and satisfaction I get from providing our amazing residents with the best culinary experience I can deliver".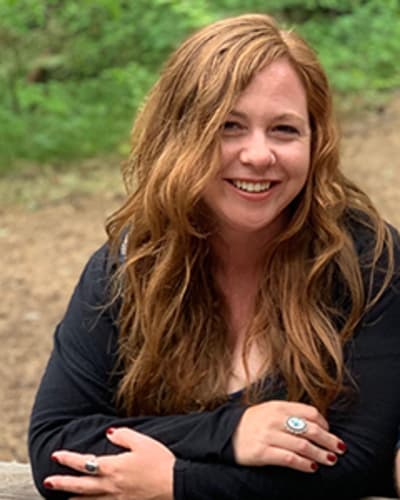 Nicole Painter
Life Engagement Director
After learning, living and traveling coast to coast and internationally, Quail Park of West Seattle Memory Care is excited to have Nicole Painter as our Life Engagement Director.
With a passion for art and photography Nicole spent two years in Sicily with the University of Maryland University College completing her Minor degree in Art History. After receiving her bachelor's degree in Humanities at UMUC, she decided to work for the University in Admissions before coming back to the West Coast. Nicole spent most of her life in San Diego and before heading to D.C., she also attended Cal State in Monterrey Bay.
When her Mom decided to retire in Seattle, Nicole thought it was a perfect opportunity to explore new horizons. She remembers clearly her first moments in the Pacific Northwest. "It was 2008 and there was huge snowstorm. I remember going to a Seahawks game for 11 bucks". After settling in, she dabbled in 35mm film photography and went to Photographic Center Northwest where she pursued her passion for photography, particularly in black and white film.
Nicole always had a keen interest in Elderly people. "Since I was 7 years old, I have always been intrigued with seniors". Her path began to open doors that led her towards that passion for seniors. She became an Activity Assistant at Park West Nursing and Rehab in West Seattle. It was there, Nicole developed a Memory Care Program and quickly became the Manager of that program. Her focus was on Person Centered Care, one-on-one, and small groups based on cognition levels. There were three levels that incorporated things like Aroma Therapy, Hand Massages and Physical Therapies. She also created the Sunshine Club. Everyone in the community had roles that entailed interacting with the residents. Nicole believes engaging our residents with purposeful daily activities and remembering that we are in their home is very important.
"If our residents are happy, everyone's day is better" she says. "I think about what it would feel like for myself or what I would want for my family. We have to get to know them as a person, both their past and their present and then create meaningful structure in their new home." It is our job to make them feel as safe and as happy as possible. I like to center activities around our residents, not a predetermined program. Spending time in small groups and one-on-one is important so we can learn important characteristics about each resident". Nicole is a big supporter of inter-generational programs and therapeutic pets. "Giving people joy and seeing that joy in someone's face, is priceless and irreplaceable."
Someday, Nicole would like to further her education in Social Work and get a Masters in Gerontology
Dana West LPN
DIRECTOR OF HEALTH AND WELLNESS
With over 25 years of experience in nursing, care management, dementia care, specialty and skilled nursing, Dana brings versed leadership to our Quail Park Memory care team. Family dynamics played a huge part in her career transitions. She grew up as an "Army kid" and inspired by her father, later became an OT2 with the Navy working on Anti-Sub Warfare. Dana spent a majority of her time in East Norwalk, Connecticut raising her children and steering her career path in a different direction. This time the influence came from her Mother, who was a nurse.
Before making her way across the country to Seattle in 2015, Dana worked at the Alzheimer's Resource Center in Plantsville, CT. It was there she learned about holistic approaches and therapeutic touch as part of dementia care. When her husband John, an Aerospace Welder, mentioned the idea of coming to Seattle, Dana jumped. Their 4 children, now between the ages of 23-36 were on their own and it was time for a change.
Her first stop on the West Coast, Seattle Medical Post-Acute Care, where she managed specialized care with patients who had tracheotomies and gastrostomy tubes (G-tubes). Feeling the pull back into Memory Care, Dana accepted a position with another skilled nursing community in West Seattle, overseeing their Memory Care unit.
For Dana and her husband John, Seattle was the perfect place to enjoy camping, hiking and taking care of their 2 rescue dogs, Roxy a blind Boxer and Millie a French Bulldog who is partially blind.
Quail Park Memory Care of West Seattle is thrilled to have Dana leading our team in specialty dementia care. She adds a perfect blend of nursing experience, management and therapeutic approaches to our community residents and care team.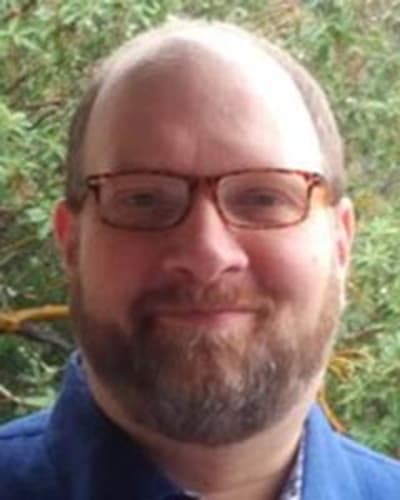 Ed Taylor
Community Relations Director
Ed is a native to the Northwest. Raised by his grandparents on Mercer Island he was heavily influenced by the mostly senior population. Ed learned the art of conversation from his Grandparents and spent much of his time growing up listening to the stories and life accomplishments of the neighborhood. The Senior Living industry would eventually be a natural choice; however, the journey would take some surprising and rewarding turns.
Right out of High School and heading to college in Bellevue Ed stumbled into working for family friends who owned a real estate company. He would spend almost 10 years working for them in Bellevue learning the business and using his listening and conversation skills to find early success.
In 1999 while looking for something new and challenging he came across an add to "sell diamonds on the internet". With the dot.com boom in full swing in Seattle, it seemed like an interesting option. Over the course of the next 18 years, Ed would join the internet start-up and help develop a World-class Customer Service department and hold various senior roles at bluenile.com one of Seattle's most successful internet companies.
As with many people who reach a certain point in their career it was time to look for the next chapter. The next step needed to be rewarding, engaging, challenging and deeply personal. By chance, a recruiter one day would ask if he had ever considered the Senior Living industry. A light bulb went off! Having cared for his grandmother with dementia for over 20 years and seeing the effects of aging on the ones he loved it was a natural fit!
In Ed's own words: "Making the move to Senior Living has been the most rewarding decision. Helping residents, families, and friends find comfort in their care decisions is incredibly rewarding. I love to listen and remove concerns and address questions throughout the process. Representing a community as amazing as Quail Park and all that it offers makes my role even more enjoyable. There is something very special here!"
Michelle Sanders
Business Office Manager
As a native of the Pacific Northwest, Michelle grew up on a dairy farm in rural Washington, where she loved to help her father with the animals until way after dark.  She spent many days at Ocean Shores and the Hood Canal, where her family for several generations homesteaded.  After attending community college to be an LPN, and raising 2 children she moved to Seattle to pursue other interests and the big city.  She obtained her AA with honors while working the graveyard shift at Swedish Medical Center in Transfusion Services.  Going on to manage a community clinic, raise another daughter and open a new dialysis facility, she has always looked for challenges and to keep growing and learning from her team and patients.  At one time she helped set up and manage a paintball park, where she learned HTML and marketing for the website.  Her love of French bulldogs brought her Roxy, then Roxy's litter of puppies where she kept the runt named Penelope.  Penelope has visited our West Seattle community and hopes to be a regular.  Most recently getting married to the love of her life, Richard and Michelle enjoy traveling in their camper, spending time with their 8 grandchildren, visiting her 92 year old grandparents in Palm Springs, and exploring new camp grounds around Washington.  Michelle is extremely organized and excels at communication, where she advocates for supporting staff as well as resident families.  "I love getting to know the elders of our lives and learning about their stories and what makes them their unique selves.  I am very proud to be a part of this vibrant community and our amazing team here at West Seattle".