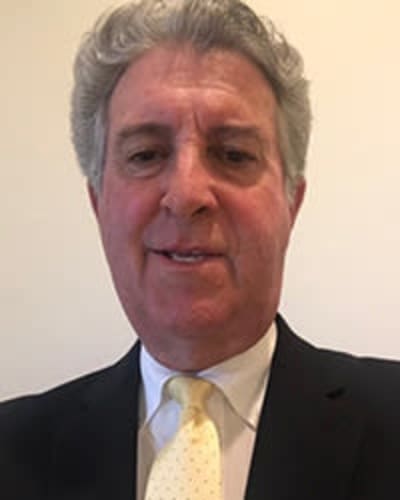 Lionel Kier
Executive Director
Lionel brings over three decades of experience working in the healthcare and senior industries where every day is a new challenge to tackle. His passion for the industry stems from enjoying to meet new people and helping others.
Lionel is celebrating 40 years of marriage to his wife, Ellen, who is a semi-retired nurse working for UA Medical School. He has two married sons and loves playing grandfather to 5 grandchildren. He stays active enjoying golf, daily exercise and is a retired sports official for soccer, basketball and baseball.
Julie Enfield
Community Liaison
Julie Enfield has over 19 years of experience in sales and marketing and 15 years in the in health care industry covering pharmaceutical, independent living, assisted living, memory care and hospice. She also served on the board of Health & Wellness and the Alzheimer's Association. Julie graduated from the University of Arizona with a Bachelor of Arts in Psychology and a minor in Art History. She was born in Long Island, NY, and lived in Atlanta GA, before making Tucson, AZ her home.
Julie is passionate about making a difference in the lives of seniors and their families. She enjoys learning from their knowledge, life experience and history. She also believes that caring for seniors and elevating their quality of life is one of the many ways to show your sincere appreciation for all that they have done.
In her spare time she enjoys spending time with her daughter and husband, hiking, yoga, health and nutrition, travel, and volunteering at her daughter's school and dance academy. She is also an alumni of Tucson Regional Ballet.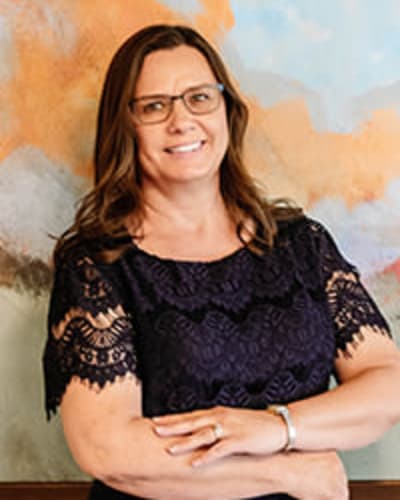 Lori Gorsky
Health & Wellness Director
Lori Gorsky has lived in Tucson since she was young child. She is a Registered nurse. She has been in the medical field for 19 years. With a passion for taking care of people, she has found that helping the geriatric population to be the most fulfilling and rewarding venture. With passion, she treats everyone as an individual and with respect that they are entitled to.
Lori started her medical career in medical billing for a private practice. Often times Lori was asked to help the doctor in the clinical capacity. This led to her traveling to his offices in Benson and Sierra Vista with him. Travel time to and from the satellite offices afforded her the opportunity to have the doctor's full attention and ask questions. Eventually, Lori also accompanied the doctor on his hospital rounds. The doctor persistently encouraged Lori to become a nurse. The doctor ultimately retired one January, her youngest son graduated and left home in May and she started nursing school in August. Since that time Lori has spent her nursing career in skilled nursing and long-term care.
Along with her husband of 33 years, Lori has nurtured and raised two awesome sons. Lori was a stay at home Mom, working mostly part time until her youngest son graduated and left home. As a stay at home Mom, Lori was actively involved with her sons in scouting, baseball, the Church youth group, soccer, football and any other activities either of her sons had an interest in. Now she continues this with her grandsons, being actively involved in their lives. Family is an integral part of Lori's life. Spending quality time with her husband is paramount; they enjoy spending their time together exploring different venues; such as hiking, camping, dancing, traveling Arizona's scenic roadways, and of course, shopping.
Chi-Vas White
Life Engagement Director
Chi-Vas was born and raised in Chicago, IL. He is an artistic, enthusiastic, focused and disciplined individual that loves learning new things and helping people. In his spare time he likes to draw and display his art at local galleries, exercise, watch sports, and spend time with his wife.
He has 25 years of experience in the hospitality and customer service industry. The last 5 years were spent working in senior care, providing support for families and caring for older adults living with dementia. Chi-Vas began his journey in senior services at a Senior Day Care in Northfield, IL., which provided guided programs for seniors living with Alzheimer's and Dementia.
His work at the daycare proved to be critical when he relocated to Tucson, AZ in 2017 along with his wife and dog to personally take care of his father who was living with dementia. Chi-Vas was a 24 hour caregiver for his father and dedicated his life to taking care of his father until he passed. After his father's passing in 2019, Chi-Vas chose to work in senior living and continues to dedicate his time, knowledge and heart to helping seniors live and maintain a full and purposeful life.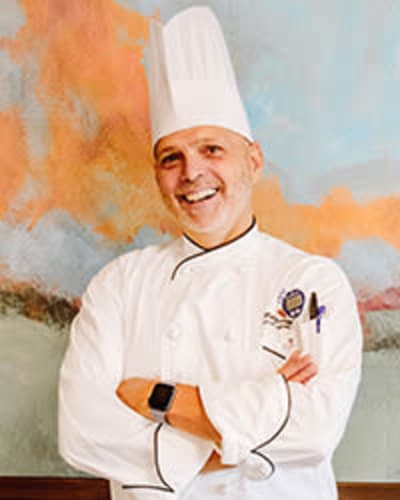 Robert Kaslly
Certified Executive Chef
Chef Robert sets the tone for Quail Park of Oro Valley's one-of-a-kind menu, which he created himself, pulling from his worldly variety of Culinary Experiences while including local flavors and styles. He brings unique creativity to our ever-changing menu offerings, along with a passion for incorporating fresh, seasonal ingredients. Robert is an affiliate of Le Cordon Bleu and a Certified Executive Chef through the American Culinary Federation.
Robert has been in a Professional kitchen since 1975. Chef worked in some of Phoenix's top-rated resorts & restaurants. He also worked in San Francisco at a 5- star hotel in union square, as well as serving as Executive Chef at a 3- star Inn in Mendocino California. Robert has also been executive Chef at Wolfdales in Lake Tahoe and at the Beverly Hills Grill with many awards and accolades won. He served on the Michigan culinary team in Berlin, Germany where they brought home 7- Gold Medals.
Robert has done extensive traveling abroad; his favorite trip being his travel through Israel. He is inspired daily with foods from around the World. He believes to be a good cook you have to experience different foods, cultures and styles of cooking. In his free-time, he lives well by spending time hiking, mountain biking, and Kayaking with his family.